Ocean/Air Freight Forwarding
We are a premium player in the freight forwarding industry in India. Over the last ten years, we have moved over thousands of air tons and containers. We are proud to have a record of no lost shipment in transit or no damage in transit. We are a member of IATA since 2007, and our rank in India has been steadily increasing.
On the air freight front, we hold stock of major airlines passing through India, and work very closely with them. We hold our own Break - Bulk licenses at all metros and are able to execute on timely deliveries at every airport. On the sea freight front, we move both LCL & FCL cargo, and consolidate shipments through Chennai Port. Our management comes from a sea freight heritage, and hence are able to provide customised solutions to our customers. We work very closely with container freight stations, to ensure that your cargo is handled smoothly & efficiently.
Over the last ten years we have handled cargoes of various types such as
Machinery
Pharmaceuticals
Garments
Air filters
Hoses used in air crafts
Granite & Marbles
Robots
Valves & Control Systems
Food products
Electronic goods
Mobile phones
Network equipments
Computer hardware
Batteries etc.
Elevators & Escalators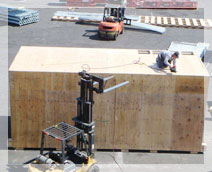 Our understanding of different commodities & their needs to be serviced, give us the edge over the others when it comes to servicing our customer. Whether it be foreign nationals or small & medium enterprise, we ensure personalised quality service. To support us in our endeavour we have a state of the art web based IT system, which allows us receive and send real time access to our customers and our partners anywhere at anytime. Also being members of IATA and world renowned freight forwarders' networks such as WCA,Pangea, Conqueror,COOP , puts us on a pedestal, wherein we can deliver quality and efficient service.